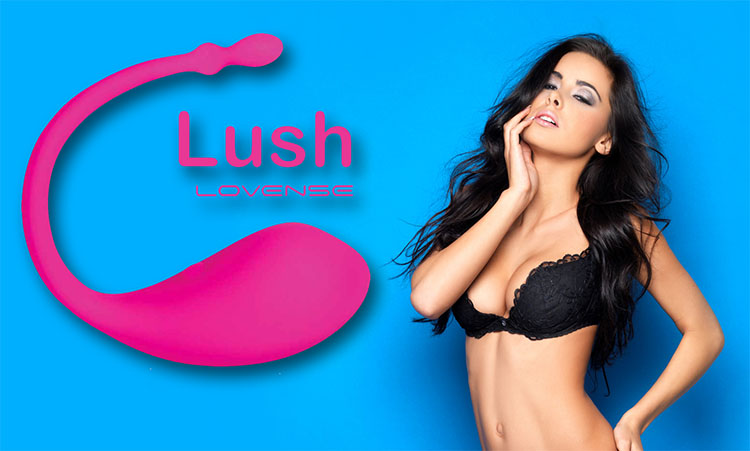 Hi, my name is Lynn. I am a cam model and today I'm gonna talk to you about Lovense Lush, the famous sex toy widely used on Chaturbate.
This thing has been a success since it's launch and it's a must if you want to enjoy your shows to the max while making money.
In this Lovense Lush 2 review, I'm gonna talk about its features, where to buy it and how it can help you to get maximum pleasure.
Get your Lovense Lush now
Lovense Lush Features and specifications
Lovense's Lush was a successful bullet vibrator introduced in 2015 ( more than 300.000 units sold ) which made possible an improved version three years later, the Lovense Lush 2. That is the one I'm reviewing today. It's main features are:
Long-life battery: Up to 3 hours of use
It's made of body-safe materials
It's waterproof also
Completely wireless: Control it close range or long-range ( Internet )
USB Rechargeable
1-Year Warranty
App available for Android and Apple devices
The main advantage this thing has over the competition is its reliability and simplicity. Everything is controlled via the app through Bluetooth so it can be used even on a Mac or Windows PC with a USB Bluetooth adapter.

Who I recommend it to
Basically, if you want to have fun in your relationships or cam shows, one of these things will take you to the next level. If you have never tried one of these devices you definitely should because:
It's internal, so it's more discreet and silent. In fact, it's barely audible so nobody will notice it unless you want to.
It's designed to hit your G-Spot so maximum pleasure is guaranteed!
The antenna is external. It's the part that goes outside your body, so it can receive signals from your phone or the Internet. That way your boyfriend ( or girlfriend 

) can get you off easily from anywhere. And if he has erectile dysfunction don't worry. You can improve his condition with this toy and some meds like Bluechew.
If you are a cam girl and want to enjoy your shows, even more, you must buy it because you can configure it to vibrate when you get tips from your viewers. Many cam girls like me already do and we all are delighted with the results.
Unboxing the Lovense Lush 2
Inside the Lovense Lush case there's not much. The vibrator itself, a user manual and the USB cable to recharge it. Here's a video of what you'll find when you get it.

How does it work
As I said earlier, controlling the Lush via smartphone is really easy. All you have to do is download the app and start using it. Make sure to fully charge the device once you get it. It takes about 1 hour. Once you do, you'll have almost 3 hours of nonstop fun!
Here's a brief demo of what you can do with the Lush and a mobile phone.
Advantages of using a Lovense Lush
Whether you are a cam model or not, using the Lovense Lush has clear advantages:
It can make your sexual relationships more fun because it allows your guy or spectators to control it giving you pleasure the way you want it. It's silent, it's clean and comfortable. It's also designed to adapt to most girls so you won't have any problems using it. I recommended it to some friends and now they love it.
You can use it at home or elsewhere. To have some fun when not at home, all you have to do is to ask your partner to download the app and pair it with your Lovense Lush. If you want, he'll be the only one able to access by using a user/password combination.
The long-distance options are great for giving control to your boyfriend or your followers on Chaturbate. You can configure the Lush to react to certain sounds or music, making your sessions much more fun!
The external antenna allows the best range of all Bluetooth vibrators on the market. While this is true when naked, remember that when dressed the range will be a bit less. To overcome this problem, just keep your mobile phone close to you at all times.
It's extra comfy. I've never tried any other vibrator this good. It's made of flexible silicone and it's odourless. Its silent operation allows you to use it unnoticed wherever you want.

How to use and clean your Lovense Lush
Silicone made sex toys are delicate. Make sure you use water-based lubricants only as silicone-based lube would damage it. Apart from that clean it thoroughly before every use scrubbing it with soap and hot water. Don't forget to let it dry it afterwards or use a cloth to speed up the process. As you can see there's not much to do to keep your Lovense Lush in pristine condition.
My opinion on the Lovense Lush and why you should buy one
In my opinion, the Lovense Lush is a great tool to increase your pleasure when alone, with your guy ( or girl ) or with your followers if you are into cam modeling. I've tried many sex toys since I started camming and this is by far the best of them all.
It's really easy to use, the app is intuitive and almost everything works as promised. Wireless range can be a bit compromised if you use it with your clothes on but I don't think that's much of an issue because most will use these things completely naked Ummm 🙂
Another downside is the price. Yes, it's a bit expensive but if you are looking for the best of the best with no compromises, there's not much else to tell. Overall I think the pros outweigh the cons clearly and if you are looking for quality getting the Lovense Lush is a no brainer.
PROS
Very easy to use
Fast charge in 1 hour
Works remotely both in close range or from the Internet
Perfect for webcam models
App available for Android and iOS
CONS
It's expensive
Range decreases when dressed
Get your Lovense Lush now