If you are interested in VR porn get ready because in this article I will explain to you which are the best VR porn sites in a clear and simple way.  No chit chat, no bullshit. I've been using VR headsets since 2015, so I have some experience under my belt.
VR is great for so many things… Videogames are the first thing that comes to my mind, but there are other applications like Porn.
If you have never experienced VR Porn, you definitely should. Is the closest thing right now to being there… literally.  Yes, is THAT GOOD.
Is VR porn good? What is it like?
VR Porn is one of those things hard to describe with just words. Definitely is much more realistic than conventional porn.
You feel like being there with the girl (or guy ) of your dreams. You can feel the presence, the volume, the shapes, it's almost real, at least visually. Probably the closest you'll ever be to fuck with a pornstar.
Yes, it's that good. But again, you just have to try it. No matter how hard I try to convince you, it's one of those "game changers". One of those things you have to try for yourself.
What matters the most when choosing a VR porn website?
For me, the most important thing is image quality, so I'd choose sites with 5K videos at least.
Keep in mind that in VR, the full video resolution splits into two halves, one for each eye, so a 5K video doesn't look as good as you may think, especially if you haven't tried VR before.
To get the best results, it is important that both the video and your virtual reality device are the best possible.
You will not get the same picture quality in a 1st gen Oculus Rift compared to a 2019 HP Reverb, even if the video file is the same.
The same can be said about the quality of the videos, which varies quite a bit depending on the website you subscribe to.
Both elements can make the final experience spectacular or acceptable, and you want it to be spectacular, right?
Which is the best VR porn site?
There are at least 18 VR porn sites on the Internet that deserve your attention. I've made this list based on my personal taste but always taking into account what matters to most users.
Good image quality, entertaining videos and good prices are the features I look for the most.

In my opinion, VR Bangers is the best VR porn site. Why? Well, basically because it scores high on every single department. Most of its videos are in 6K and you can really tell when you put on your VR headset.
The image quality of the VR HMD's has improved a lot lately but they are not perfect yet. That's why high-quality videos help to make the experience better.
In addition to its unique 6K videos, VR Bangers offers many other advantages.
It has free videos, so you can try out the experience before you go for a premium subscription.
Videos are classified in many categories such as anal, Asian, babes, big ass, big dick, augmented reality, tits, big, blonde, shemales, creampie, cumshots, Japanese, massage, mature, orgies, videos for girls, outdoors … the list is too long to put it all here but be sure that whatever your favourite niche is, it's in VR Bangers.
Another advantage of VR Bangers is the insane amount of videos available, most of which are over half an hour-long. I can assure you'll be overwhelmed.
There's plenty of content available and the best thing is that they are constantly adding more. I doubt I'll ever finish watching all the videos VR Bangers has.
The prices of VR Bangers are quite good considering what you get. You can buy annual or monthly subscriptions. Unlimited access monthly subscriptions cost $25.
If you prefer, you can purchase limited access subscriptions for 0.13 per day. You choose a particular niche and have access for a whole year to that section for a fraction of the price. A full year of this particular subscription would cost you about $48.
VR Bangers often offers discounts. For instance, right now you can get a lifetime subscription for $250 for a limited time only.
In my opinion, this is the best option after an initial try out phase. What I would do is to get a month, see what it is like and then, grab a subscription for life.
 If you've spent up to $500 or even more on a VR headset, I think it's not too crazy to get unlimited content forever just for a little more.
In short, the most important features of VR Bangers are:
Affordable price

Weekly updates

Downloadable videos

Discreet Billing ( No VRBangers is shown on card statement )

360-degree videos with up to 6K resolution

The best pornstars in the world

It works on all popular headsets and phones.
If I had to say something bad, I would say that the pricing structure should be clearer, especially for beginners.
Apart from that, it is an almost perfect website with everything you need to fully enjoy your new VR device.

BadoInk is another great choice for your VR porn needs. This site features many well-known porn stars like Gabbie Carter, Riley Reid, Megan Rain, Liya Silver, Adriana Chechik, Brett Rossi or Jill Kassidy.
Some of them work exclusively for this website, so if you are a fan, the choice is clear.
The picture quality of Badoink's VR videos is very good. Most have been shot in 5K / 4K quality, 60 FPS, 180-degrees and also offer binaural sound.
The prices are also quite good. You can get a one-dollar trial that allows you to stream content to your smartphone and download one video too.
If you prefer, you can pay $14.95 per month with unlimited downloads and a free Google Cardboard.
If you want it all, Badoink VR also offers a $ 299.95-lifetime subscription that includes all of the above.
The biggest drawback I see with this website is that even though it has many videos and a wide variety of girls, most of them star one or two videos tops. Other VR sites offer slightly more variety in that regard.
Whether we like it or not, VR porn is still a niche market and if you want to watch a lot of videos of just one pornstar, you'll have to settle for traditional porn, which is actually much less fun.

SexLikeReal completes my top three rankings of virtual reality porn sites. It's perhaps the one with the most content and the easiest to use.
As soon as you enter you will see that everything is well structured, in a similar way to websites like Pornhub. You can filter by quality, frame rate and there are even videos with support for these new VR Fleshlights that react to VR videos in real-time.
Another interesting feature of SexLikeReal is that it lets you buy videos individually without being a subscriber. It is an option that I do not recommend though because each video is quite expensive if bought separately.
Individual videos prices start from $5.95, but they usually cost around $12. Taking into account that monthly subscriptions cost $29.99, I see no reason to buy individual videos.
One advantage of Sex Like Real is that the prices are clearly disclosed. Apart from the monthly subscription, you can make a one-time payment of $39.99 that gets you access for 30 days, a one-time payment of $239 for 1 year, and a one-time payment of $699 for lifetime access. As you can see SLR is on the pricey side.
As with many of its competitors, you can pay by card, Paypal or crypto-currency.
SexLikeReal is the website that has more content of my top 3. There are videos from 19 different categories including anal, big tits, teen striptease, American, MILF, Orgy, Cosplay, Threesome…
What I don't like about this site is the cost. It's good for people that consume tons of porn every day. If you are one of those, it's a great choice. If not, I recommend you one of the two previous options, because they have the same image quality at a much lower price.

VR Conk is a VR porn parody site. Most of the videos are not just sex scenes but have some kind of script or plot.
Most videos are long, ranging between 20 and 50 minutes, so you will have entertainment guaranteed.
On VR Conk you can find what you're looking for in the various categories available such as Amateur, Anal, Asian, Big Ass, Big Dick or Big Tits, Blondes, Brunettes, etc.
You can also find videos by searching by the name of the pornstars that appear in them.
Overall, I think VR Conk is a nice website. Technically is impeccable. Most videos are in 6K@60FPS, supports all major VR devices and there are even 360º videos. If that's not enough, there are also previews available just by clicking on the thumbnails.
The prices of VR Conk are $13.99 per month.

$35 for 3 months.

$70 for 1 year.
You can pay by credit card, Paypal and Bitcoin. This site is one of the cheaper ones, so if you don't want to spend much, it's an obvious choice.
In short, this is a website I can recommend easily. Tech side is great and the videos are long and fun. Girls are amazing too. Recommended.

Naughty America is a well-known porn website. Now they're making the jump to VR and to be honest with you, it could be a bit better.
The site is quite simple and doesn't give much information about the video's features. It is only possible to filter them by category, girl or resolution.
Most videos share standard features such as a 180 degree viewing area and binaural sound. In other words, the norm.
Once inside, the videos are not as sharp as I'd like to, but not bad either.
You can see an improvement in that regard if you look at the most recent videos, but it still doesn't reach the level of VR Bangers, Sex Like Real or Badoink VR.
Naughty America VR prices are average. You can purchase:
1-day subscription for $1.95.

1-month subscription with a VIP pass for $29.95.

3-months for $53.85 ($17.95 per month).

12-months subscription with access to 7 more websites for $239.40 ($19.95 per month).
Without a doubt, this last option is the one with the best bang for you buck and the one I recommend.
You can pay by credit card, Paypal, crypto-currency, Sofort, Paysafecard, Neosurf or Safetypay.
I liked Naughty America. But if I had to choose, I'd leave it out of my top three. In my opinion, website design is not very functional and looks a bit old fashioned.
The videos are not technologically great either, and you'll only find 4K videos at best ( At least when I made this article ).
However, it has great content with many videos of your favourite pornstars. A nice touch is that you can download a free video to see what it looks like.

VirtualRealPorn is a network of VR porn sites. The main one has all the features you would expect like easy navigation, famous pornstars and 5K resolution videos that even work with Kiiroo's interactive fleshlights.
You can search for model, date, rating, title or length, which makes things much easier. There are also interactive videos in which you can choose how the story continues.
The videos image quality is quite good. You can also download them, although depending on the device the quality may differ a bit.
The higher quality videos are always available for PC VR users, but if you're using PSVR, Gear VR or a Smartphone you'll have to settle with a little less resolution.
The best videos were shot at 5K and 60 frames per second. With so much quality, videos can take up to 7 gigs of space.
There are also trailers available for each one of them, which is great.
There are other websites available on the VirtualRealPorn network. The problem is that each website is independent of the others and requires an individual payment.
The prices of all the platforms are similar but not exactly equal. For instance, the "straight" Virtual Real Porn prices are as follows:
$11.99 for one month

35 dollars for 3 months

90 dollars for 1 year
Other websites in this network have the option to get lifetime subscriptions, except the main one. 
As you can see prices are quite cheap and you can also pay by card, Paypal, Bitcoin or gift cards if you have one.
Rounding up, I think it's a good VR porn site that you should try because it's not too expensive and the content is varied and of high quality.

I really like the name of this website. Very appropriate. WankzVR is simple and easy to use but how does it fare against the competition? Really well I must say!
Most videos are in 4K / 60 FPS, which is fine. Remember that 4K in VR does not represent the same quality you get on your TV. Whereas images may be crystal clear in a 4K TV, the same doesn't really apply in a VR headset, and you need that extra sharpness only 5K and 6K provide.
WankzVR videos can be enjoyed from a PC, Smartphone or Google Cardboard. Most used platforms are supported, so in this regard, we have no objections.
On WankzVR is possible to search by pornstar (there are up to 335 different ones) or by genre. You have 10 categories to choose from including creampies, orgies, MIFLS, threesomes, anal, etc.
Most girls have between one and five videos. I hoped to find more, but from what I've seen that figures are the norm in most cases. Even so, there is more than enough content to keep you entertained for a while.
WankzVR's prices are affordable. You get a 2-day trial for $1.99, a month for $9.95 and a year-long subscription for $80. These prices are lower than most of its rivals so if you are on a budget it may be an option to consider.
You can pay with a credit card, Paypal and crypto-currency and for $5 a month more you can have access to MILF VR, another website of the WankzVR network, which I'll review for you down below.
Wrapping it up I'd say that Wankz VR is a good site but not great. It has some of the best pornstars in the business right now and affordable prices, and that's good enough for most people.

Czech women are gorgeous right?. If you think the same Czech VR may be a very interesting option for you.
One of the best features of CzechVR is video quality. Content is shot with the best hardware in the industry right now and you can really tell.
5K, 60 FPS, H265 and 5400×2700 resolution. You can download free trailers of the videos in high and medium quality. A really useful feature to feel the difference.
I have tried a few max res videos and they look really good. Sharp and clear. On the technical side Czech VR deserves a 9 out of 10 considering current technology limitations. 
The videos are available for Oculus, VIVE, Valve INDEX, Gear VR, Daydream, Oculus Quest & Go, Smartphones and PlayStation VR and share the above-mentioned features plus binaural sound, stereoscopic 3D and 180-degree viewing.
Now the bad news. The best tech always comes at a cost. Czech VR is not as affordable as its main rivals:
1 month for $24.95.

3 months for $49.95.

6 months for $84.95.
This is the price to pay to enjoy the most advanced VR porn. With the subscription, you get access to other websites of this network, like Czech VR Casting, Czech VR Fetish and other non-virtual reality websites. So yes, it's expensive, but you also get a lot for your money.
The videos are divided into several categories: anal, blowjob, brunette, hardcore, lesbian, teens, threesomes, MILF, redheads and solo. Content is good and varied.
In the Czech VR Casting website, the content is a bit more repetitive, and basically it's just the interviewer fucking the candidate in each and every video. The usual stuff from porn casting websites.
The fetish section has categories for Anal Fisting, Fisting, Face Sitting, Piss, Gaping, Foot, Speculum, Strap-on, Latex and Lesbians, so if you enjoy that niche you're going to have a lot of fun.
Another good thing about this website is that you can download short trailers of each video even without being a customer so you can get a pretty clear idea of how the videos look.
Rounding up, it's a website that I liked. The only question is, can you afford it? If the answer is yes, you won't be disappointed. 

VirtualTaboo is one of the best VR porn sites out there. Technically is probably the most advanced one.
Most videos can be watched at 7k and 3630p resolution, 60 FPS, binaural sound and 180 degrees of vision. That's something I haven't seen on other VR sites.
You may be wondering. Can I tell the difference between 4K, 5K and 7K? I definitely can. It's more noticeable going from 4K to 5K than from 5K to 7K, but the difference still exists.
The 7K videos on this website have an extraordinary quality but this comes at a cost. You will need a decent PC to watch them smoothly.
VirtualTaboo features three weekly content updates and all videos can be watched in any device including Oculus, Playstation, Samsung, Cardboard, VIVE / Steam VR and Daydream. I recommend you to download them to get the best quality.
Content on VirtualTaboo is classified in tags and not in categories, so it is easier and faster to find what you are looking for.
You probably expect Virtual Taboo's prices to be high, but that's not really the case:
1 month's access for $14.99.

3 months' access for $59.99.

12 months' access for $99.99.

Lifetime access for $250.
Accepted payment methods are Credit card, Paypal and Klarna.
To sum up, VirtualTaboo has surprised me and I think you should take a look at it closely. The image quality + good prices combo is hard to beat. 

Pornhub VR is included in Pornhub Premium, which is great because you get not only VR videos but access to all paid content on this platform. In other words, you will have enough material to satisfy you for decades.
As far as the VR section is concerned, Pornhub Premium has 1080p and 4K videos from other virtual reality platforms such as VR Bangers.
The problem is these videos are dumbed down versions of those you can find on those platforms. The content is the same, but the video res is not as high.
I think that Pornhub VR is a good alternative for people who don't want to spend a lot of money or don't need the best of the best in terms of image quality. 
For just $9.99 per month, you have access to Pornhub's Premium section and that includes access to videos from the best porn producers for both virtual reality and conventional porn. And if you decide to pay for a whole year, it will cost you less than $100. 
I think Pornhub Premium is a good choice for those what prefer quantity over quality for a good price.
I'm not saying the quality is bad but certainly, there are VR porn sites with exclusive content that offer a better picture.

This website is very different to what you are used to. There are videos about prisons, UFO's, beasts in the woods, murderers, parodies of famous movies, etc.
This is content that you won't see on other virtual reality porn sites. I recommend that you take a look at the preview of each video to see what I'm talking about.
On the technical side, most videos come with 180 degrees of vision, 5K resolution, 60 FPS and are also compatible with all virtual reality headsets on the market.
Prices are slightly higher than the competition:
One month for $39.95.

90 days for $79.95.

180 days for $129.95.
There is no option to pay a year in advance.
I'd certainly recommend XVirtual to users who are looking for something new and have had enough of the typical porn scenes. Here you will find content to unleash your wildest fantasies, virtually of course.

MILF VR belongs to the same network as WankzVR and as its name suggests, it is focused on MILF videos.
Most of them were recorded at 4K and 60 FPS, so they are not too advanced quality-wise.
Another disadvantage of this website is that they only release one new video per week. Yes, it has over 170 different videos, but that's not much if you compare it with the competition.
Another problem I see with this site is that not all videos are about what you would call MILFS, or at least not to me. Women in their 30's are MILFS? I don't think so.
There are also good things. The video previews are quite long and helpful, so knowing if the content is good enough becomes easier.
The prices are extremely good too:

2-day trial costs $1.99.

1 month's subscription costs $14.95. ( First month only for $9.95 )

And if you decide to pay a whole year in advance, it will only cost you $6.66 a month, about $80 in total.
It is a good website if you want to see very attractive women in videos that, without being the best technologically speaking are good enough for most users and the best part, at an almost unbeatable price.

VRCosplayX was made with geeks in mind. It belongs to the BadoInk network composed of 18VR, BabeVR and KinkVR.
If you like videogames this site is for you. Basically it's like any other VR porn site but the difference here is that girls show up dressed up with famous video game or movie outfits.
You will find parodies of movies like Captain Marvel, Suicide Squad, Scooby Doo, Star Wars and a long etcetera.
There are also videos themed after video games like Tomb Raider, Mortal Kombat, Apex Legends or Overwatch.
Prices are $1 for a day's trial.

$9.95 for a month.

89.95 for a year

$375 for a lifetime subscription.
The site is updated with 2 new videos each week being all compatible with any VR device.
All videos are 4K and 5K at 60 FPS. Can be downloaded to your device and most look great. 
Another perk of this VR site is how good the girls look in those outfits. As a video game fan, I'd definitely recommend this website to geeks like me, gamers and superhero movie fans.
If you fit in that category, I bet you'll like the content and the best part: At a price difficult to beat.

VR Hush is a site that I liked a lot. It has very hot videos with some of the most coveted pornstars right now. 
The pornstars in VR Hush are well known in the industry so I'm sure you'll be satisfied in that regard.
Another novelty is that a few videos contain windows from different viewing angles, so you can watch the action from different points of view, a bit like some sports TV broadcasts.
The rest of the features are the usual ones, such as the option to download the videos to your PC or streaming them to your mobile phone.
VR Hush prices are $19.95 for a one-month subscription.

$49.95 for 3 months subscription.

$100 for 1-year subscription.
These are very good prices. I think the 1-month subscription is the least interesting one.
I think the 3 months sub is the best as there's a significant discount compared to the 1-month subscription.
All videos are in 4K, which falls a bit short when other sites are offering 6K and even 7K videos.
VR Hush payment methods are the usual ones. You can pay by card, Paypal, Teleingreso or Maestro cards. I missed more options like lifetime or 6 months subscriptions.
All in all, I think VR Hush is a site that scores well in all areas and I truly think you should try it.

Kink VR is a site about BDSM Hardcore and belongs to the BadoINK network. If you like BDSM, I think you'll find this site quite interesting because there aren't many BDSM VR porn sites.
Talking about features, Kink VR's videos are compatible with any device, no matter if you have a PC HMD ( Head Mounted Display ), Oculus Quest, Google Cardboard or PSVR. Also every week you'll have 2 new videos for your enjoyment.
All videos have good quality as they are available in 4K / 5K and 60 fps. They also have binaural sound.
Unfortunately, there are no video previews for non-customers and you can only see photos of every scene. That's a problem if you are not convinced yet about subscribing. 
Anyway, I have seen some videos and I liked them a lot. There's some hard sex in there as it should be on a BDSM site.
I not much into BDSM, but from what I saw, I truly believe any true BDSM fan should give it a try.
The prices are as follows:
1 dollar for a 1-day trial.

9.95 per month.

89.95 per year.

375 for the lifetime subscription.
Prices are quite good considering BDSM VR is a niche within a niche. My opinion is that if you're looking for BSDM Hardcore VR porn, Kink VR is a good choice.

If you are looking for an erotic VR site with spectacular girls, StasyQ VR is for you. This is not a porn site. It's more like a VR version of "Playboy". The only thing you'll find here is spectacular stripteases that will take your breath away.
On StasyQ VR there are no genres. All videos are stripteases, so to find something you just have to search the name of your favourite model.
There are 139 videos in total, mostly from well known European and Russian girls like Liya Silver.
Each girl has several scenes to choose from, which is very welcome. The website is simple and well designed. Previews of each video are available by just placing the mouse cursor over it.
There are free video previews available that you can download to your favourite device.
Video quality on this site is good but not great. There is a slight lack of sharpness although it makes up for it with the spectacular girls that you can enjoy here.
The prices of StasyQ VR are:

$9.99 for 1 month.

$24.49 for 3 months.

$49.99 for 12 months.
In other words, prices are extremely good. I missed the option to pay for a lifetime subscription, but that's just me I guess.
You can pay by Visa, Mastercard and other cards, as well as with Paypal and cryptocurrencies.
In short, if you are tired of just sex and want a more relaxed and personal experience, StasyQ may be an option to consider.

WetVR is a VR porn site where most of the scenes have been shot with oil or water. If that turns you on, WetVR can quench your thirst for sex.
The scenes are quite intense and you can feel like being yourself thanks to the 5K resolution. WetVR is an interesting option for those looking for semi-hard porn scenes with quality and well-edited videos.
The videos work on all devices, including the famous DeoVR player. They can be downloaded and sent to your mobile if needed.
One disadvantage of this website is that there are no video previews and also there is no test video that you can download, so you will have to pay to see if you like this website or not.
Prices are $1 for the 1-day trial.

$14.95 per month for the 1-month subscription.

$59.95 per month for the 3-month subscription.

1-year subscription for $119.40.
1 year sub has the best bang for your buck IMHO. You can pay by credit card, Paypal or SEPA transfer.
My opinion is that Wet VR is good for those who are looking for intense sex scenes, but apart from that, it doesn't bring anything new to the table.

If you like Japanese girls, Virtual Real Japan may be a site to consider. It does offer compatible videos with the main platforms like Oculus, Gear VR, Vive, Google Cardboard, Windows Mixed Reality or Daydream.
You may be wondering. Are cocks and pussies censored?  The answer is yes!. 
Also, this site has another big drawback. All content is available by streaming only and there is no option to download videos, so the image quality is really low.
There is some people complaining in the comments section in the official site, so I'm not the only one who thinks that. 
Moreover, you can't watch previews either, so signing up is an act of faith, only recommended for true fans of Japanese porn.
Virtual Real Japan prices are also expensive:
$24.99 for one month.

$37.5 for 3 months.

$112 dollars for one year.
You can pay by card, Paypal or Bitcoin. My conclusion is that I only would recommend this site to Japanese porn hardcore fans who want to try a new experience in VR.
Sadly, I think it has too many drawbacks to be considered an interesting choice, at least for me.
¿How to watch VR Porn?
If you just got your first VR headset you may be wondering how to use that thing to watch VR porn videos.
Well, it's easier than you think. Once you have your device set up and ready, you should get a VR Video Player.
There are many, but in this guide, I will be using DeoVR which is one that works really well.
Once you have it, watching videos is quite simple. Put your HMD on, start DeoVR and browse your disk drives until you find your video.
I'm going to assume that you got a paid account on some of the VR porn sites I listed below and that you downloaded a video.
This player is best used with the controllers that came with your HMD, so just go to the disk drive the video is in, and open it using the trigger.
Once you are in, you'll see a few options and menus.
To watch VR porn, you just have to select the bottom left icon, the one that looks like a TV with a vertical line in the middle and also the 180º icon. Then click on the video again to hide the menus.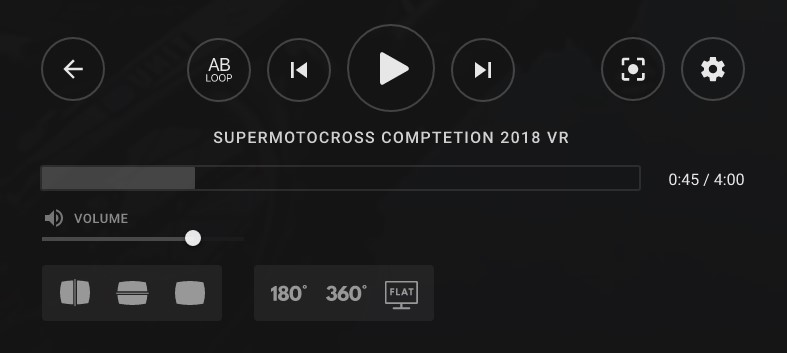 Which virtual reality headsets offer the best VR porn experience?
As you know, tech is evolving all the time. When I made this article, the VR headset that offered the best image quality was the HP Reverb.
It is an HMD that is not excessively expensive and offers excellent results in image quality. Maybe it's not the one with the best sound, nor the most comfortable, nor even the one with the best tracking, but it scores very well in all aspects, standing out in what matters most to you, the visual quality.
If you don't have the money for an HP Reverb, you can opt for the Oculus Rift S or the Oculus Quest.
The difference between the two is that the Rift S is a PC-specific HMD and you must connect it to a computer.
The Quest is not, as it is an autonomous stand-alone HMD. You can also connect it to a PC with a cable and enjoy the same PC-specific content, such as video games or other applications.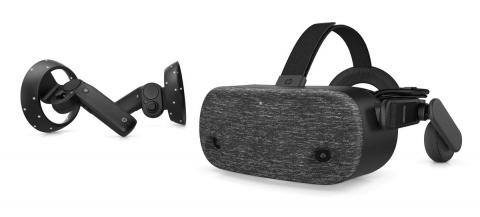 The Oculus Quest is, therefore, a truly complete viewer and is not too expensive, costing around $450.
If you're looking for the highest image quality without compromises your choice should be between the HP Reverb ( Around $600 ) and the Pimax 8k Plus. ( Around $1399 ).
The difference between them apart from the price is that the Pimax has a much larger field of view. 
One of the drawbacks of today's virtual reality viewers is that when you look through them, you get the feeling of being inside a diving suit.
The greater the field of vision offered by the HMD, the less that sensation is. In my opinion, for virtual porn, image quality is more important than the field of view, so my choice would be the HP Reverb.