Hello everybody! My name is Kira, and I'm going to talk about the Lovense Hush (and why I've fallen in love with it).
I've been experimenting with my kinks for a long time, but I never knew how awesome butt play could be until I used the Lovense Hush (known as the world's very first app-controlled butt plug).
Since I'm a model on Chaturbate, I'm always looking for ways to keep my fans entertained and engaged; if you aren't having a good time, what's the point of it all?
The Lovense Hush is the perfect introduction for me into a wide line of long-distance sexy toys, which are perfect for both cam models and couples. If you're interested in solo play or are looking for a way to spice up your cam sessions, this review is certainly for you!
Lovense Hush features
Here's a quick recap of the most important features of the Lovense Hush:
Long-life battery: Up to 3 hours

Body-safe materials

Waterproof

Wireless design: Control it from your computer or smartphone

USB Rechargeable

1-year warranty

Mobile app available for Android and Apple smartphones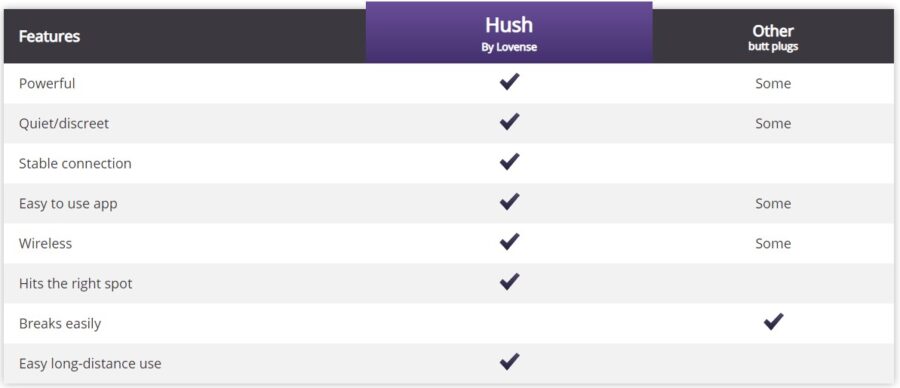 Who I recommend it to
In my opinion, the Lovense Hush is a great device for those who want to try butt plugs for the first time. It's available in two different sizes and the small one would be my choice, especially for anal sex newcomers. In fact, is the one I'm still using.
Apart from that, it's made of quality materials, it's easy to use and the app works reasonably well. Let's see what's in the box.
Lovense Hush unboxing
The Design and Features: Lovense Hush Vibrating Butt Plug
Materials
As you would expect, this sex toy is made out of medical-grade silicone to keep users safe. It's very durable and offers tons of flexibility, and that's a must if you plan on keeping this butt plug in for a few hours.
The design itself is ergonomic and meant to be comfortable, but also pleasurable at the same time! Whether you're sitting or standing doesn't matter, as the materials and structural design of the Lovense Hush will help avoid any awkward situations while you're camming.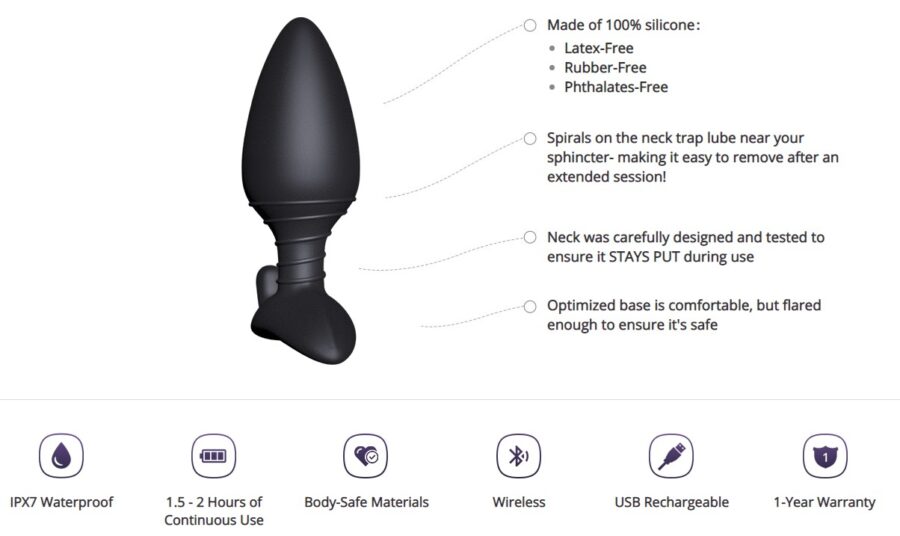 There's even a small spiral at the bottom of the butt plug itself that will prevent lube from leaking out of your butthole, and I've got to say, it makes things a whole lot easier. Lovense truly thought about everything when they designed this product, and
I love how they considered that camgirls may be using it for hours at a time; it's designed to get up in there without any pain and stay that way.
Size
You can purchase the Lovense Hush in two different sizes, although I went with the smaller option to start things off. I plan on moving onto the bigger one eventually, but I've got to work my poor little butthole up to it! Lovense Hush comes in the Standard and Large version:
Standard – 40 x 20 x 30 cm (200g), 1.5"
Large – 40 x 20 x 30 cm (200g), 1.75"
Including the flared base and everything else, the Standard version offers about 4.75" of insertable length – so it's ideal for both beginners and experienced anal experts!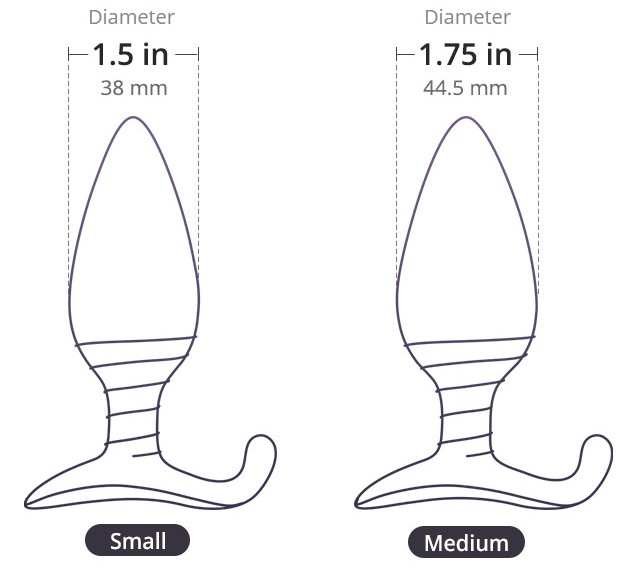 Extra Features
The Lovense Hush is completely waterproof, meaning you don't have to worry about any malfunctions happening while it's inserted in your butt!.
You can use it in the bath, shower, or even in the pool if you'd like; although I would still recommend you don't submerge the Lovense Hush for a long period (it does use an electric motor, after all).
You'll be given a USB charger to use alongside the product as well, so there's no need to worry about finding a compatible cord.
If you're wondering "how loud is the Lovense Hush?" there's no need to worry, as it is relatively quiet.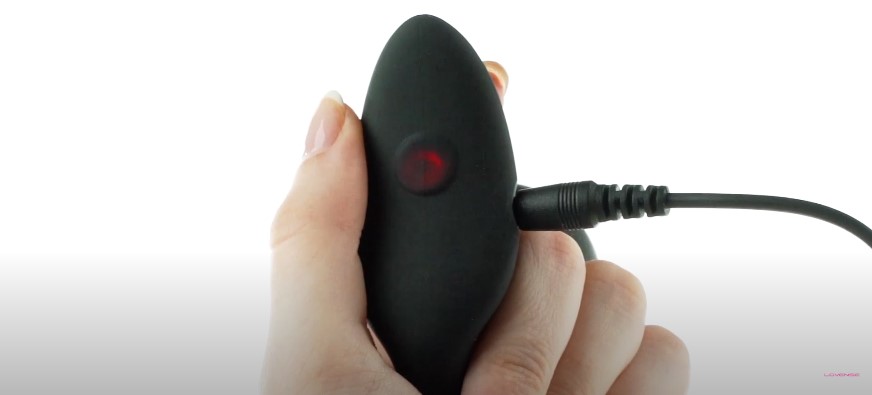 How Do You Use the Lovense Hush?
The product is controlled using a mobile app that can be downloaded on your phone. There is an abundance of vibration options included with the Lovense Hush, but they can be applied differently according to how close you are.
Since I'm a camgirl, I usually only work with the long-distance process, but you never know when you'll want to get kinky with somebody local (or your partner, obviously!).
Some people wonder why 'when I sit down, my Lovense Hush disconnects", and hopefully this can shed some light on why it would.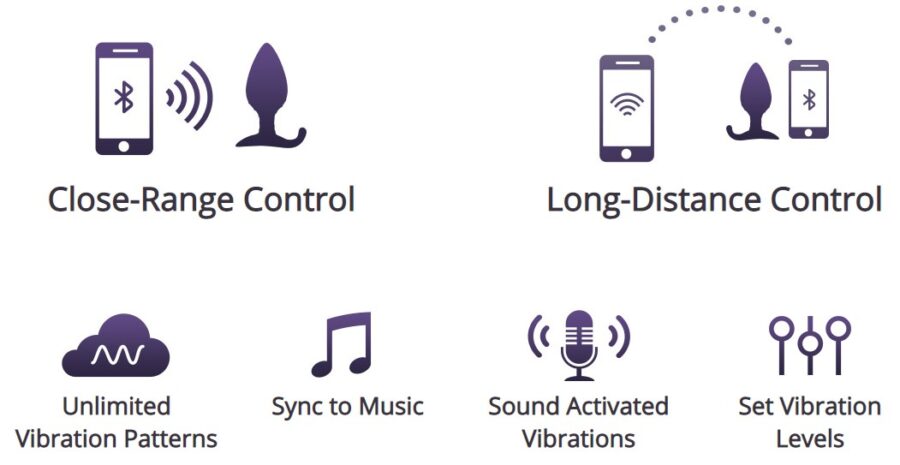 Close Proximity
All of your Lovense toys will be controlled using the Lovense Remote app, which can be downloaded on both Google Play and the Apple App Store.
Although the app is met with mixed reviews, I've only got good things to say about it myself – it's simple to give your partner control over your butt plug via Bluetooth.
If they're in the same room, you can pair to butt plug with their phones and let the fun begin!
Many people expect the Bluetooth connection process to be wonky, but I've used it once or twice myself and it was very straightforward.
Long-Distance
Going the long-distance route is going to call for a bit more work, but it's all worth it in the end.
This is ideal for girls using Chaturbate and camming in general, as you'll want to give access to your most dedicated users through the Lovense Remote app.
You can add anybody you'd like using the application, and once they accept your request, all they need is a wi-fi connection to control the intensity of your butt plug. If you wanted to know "how far away can you control the Lovense Hush?", the answer is very far!
Control Vibrations in Real-Time
Controlling the vibrations is arguably the most important part of using your Lovense Remote app, as you can play artist for a little bit and draw out vibration patterns of your own.
This isn't a figure of speech, as the application lets you use your finger and decide the intensity of your connections' butt plug! It can mimic the sensation of playing with my ass to some viewers, and other people just like the control aspect of things – I'm happy with it, either way, to be completely honest.
There's also an option called "Float", which is where you can maintain a certain level of intensity until you tell the application otherwise.
People love to torment me into orgasms with that one! There's also the "Loop" option, which will let you draw in a specific vibration pattern and then loop it, allowing you to take your finger off the screen.
If all of that sounds like it's too complicated, you can stick with the traditional route and use the "traditional panel" to control vibration levels using a simplified meter.
This is perfect for some of my older viewers who don't want to bother with the "troubles of new technology". Some other ways you can control vibrations in real-time would be:
Vibe Patterns
Some patterns have become popular among Lovense users, and it's almost like sharing the perfect settings for a new TV.
There are tons of different patterns to check out, all of which have been created by various Lovense community members – you can even preview patterns and download them for free!
Music
Connecting your Spotify account to the Lovense Remote app allows you to create vibration patterns based on your favorite songs.
Sometimes I like to load up one of my go-to jams and just walk around the house with my Lovense Hush in, or even do so while I'm camming to keep things fresh.
The only thing I was initially worried about was my friends seeing that I linked my butt plug to Spotify, but there was no need (as everything is relatively private).
How Long Does the Lovense Hush Take to Charge?
Want to know how to charge Hush Lovense? It's simple, as you charge the Lovense Hush using a USB cord and one does come with the product itself.
If you happen to lose it or that cord gets damaged, odds are you'll have an identical one laying around the house (I know I did!).
I'm usually camming for several hours at a time, and that means I needed a remote-controlled butt plug that was going to keep up with those demands! A full charge will take about 90 minutes to complete.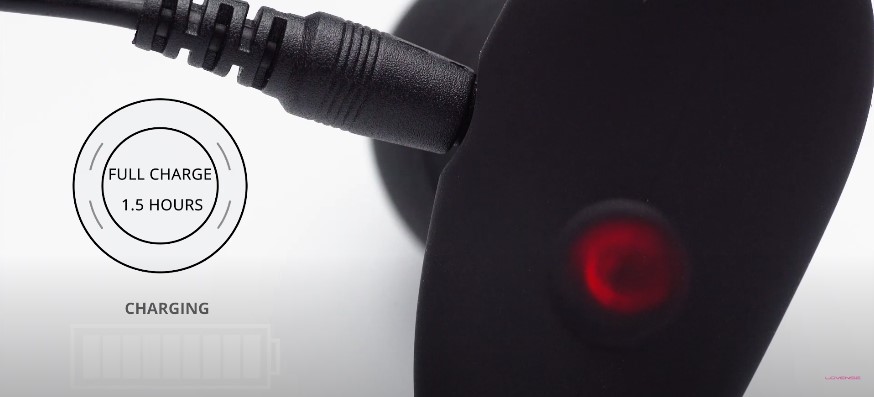 A full charge offers you 120 hours of standby time, meaning it will be ready to go whenever you'd like. When it comes to continuous use (if you never stopped, which is hard to do!) you're still gifted about 1 ½ hour of use.
If you wanted to know how long does a Lovense Hush last on lowest power consumption, I've found I can get about 3 to 4 hours out of it.
How to Use the Lovense Hush with Chaturbate?
I do exactly that and I have no complaints whatsoever. If you're just beginning your anal play journey, it's important to remember that you only want to give your most dedicated viewers control over your Lovense Hush.
I put the option behind a massive tip, so only those who are willing to pay for the control of my butthole will get it!
Chaturbate is all about keeping your viewers entertained, but also giving them a reason to come back for more.
By using a Lovense Hush, I've built a closer relationship with many of my followers. There are times where they tell me the only thing they can do at work is open Chaturbate and mess with my butt plug vibration settings, which is perfect for someone like me. The more time they spend watching my cam sessions and tipping, the better.
Conclusion
All in all, I would have to say the Lovense Hush is the perfect introduction into the world of butt plugs (especially if you're a model on Chaturbate). I recommend it.
The only "but" is that it is a bit expensive. It costs $99, but you know the saying: cheap is expensive.
I've used mine almost daily for over a year and it has no signs of wear and tear. The battery still works fine and lasts just as long as it did when new. I am quite happy with the product and when the time comes I would buy another one with no second thoughts.
PROS
Easy to use

3 hours of battery life

Operates remotely over the Internet

Perfect for webcam models

App available for Android and iOS
CONS
It's expensive

May require some time to adapt