Hello all. My name is Sarah. I've been broadcasting on Chaturbate for five years now and today I want you to know which are the best vibrators for women or at least, the ones I like the most.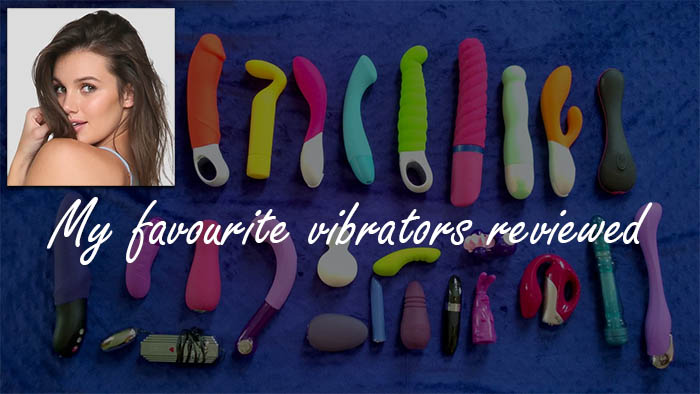 As I said, I've been in the business for quite some time and obviously I've tried many different vibrators. I use them a lot on my shows. I've made a list with my personal top 10 vibrators for women.
I have more than 20, but some aren't good. so i decided to make this list to save you the hassle of choosing the right ones.
At first, many vibrators look the same, but trust me, there are huge differences even in those that look similar. I'd like to show you which ones I prefer. Let's get started.
Lovense Lush: The best vibrator for cam models
It's by far the most used vibrator on Chaturbate. Many many girls use it. You just have to watch a few online shows to know what i mean ;). It 's pricey but it's worth it. Click on the banner to buy it!
The motor is extremely powerful and silent and you can use it anywhere.
It comes with software to control it from a smartphone and the possibilities are endless. For example, you can create unlimited vibration patterns and even control it remotely from any distance. I mean, you can allow a friend to control it from his/her phone so it's perfect for naughty couples, even if he/she is not with you. Just imagine the things you can do with that feature!.
Other features
Other Lovense's Lush features are:
Sync to music: It vibrates with your music.  A whole new way to have fun!
Sound activated vibrations: This is one of the most used features on Chaturbate. Many girls use it to make vibrate with the sound of tips. That creates a bond between the webcam model and the viewers, because they can tip whenever they want to make you cum.
Apple Watch Control: They say it's the only vibrator controllable from an Apple Watch. I'm not sure if it's the only one but it's a cool feature nonetheless.
Sync with other device: If other person has it, you can sync both and one of you can control both devices at the same time.
The battery lasts about 2 hours, it's waterproof , hands free, USB rechargeable and comes with 1 year warranty in the US.
All in all is a great little device. It's my favourite vibrator mainly because the software that comes with it it's really unique. As i said, most cam girls use it on Chaturbate, so they can't be wrong.
On a more personal note, i have to say it's the vibrator i get more pleasure with. Depending on the speed to choose, you can have pleasure for hours or cum in just a few seconds. If money is not a problem, i'd choose the Lovense, no question about that.
GSPY Vibrating G Spot Rabbit Vibrator
This is absolutely one of my favourites. It has excellent reviews from Amazon's customers and honestly i have to agree with them. It has quite a unique shape with all that veins and the rabbit hand that can be used to stimulate other parts of your body. 
The veins give it a realistic look, and it makes me horny everytime i look at it. Everyday I want to get home to put it inside me.
Another cool feature is that it is bendable so if makes insertion quite easy. Also has 2 motors to increase pleasure. I'm really happy with this vibrator and i recommend it to anyone who doesn't want to spend a lot of money.
Orlena Clitoral Sucking Vibrator
This new device has been a surprise to me. It features a new suction technology and it's amazing. With this little thing you can cum in seconds. The vacuum it creates, provides touch-free clitoral sucking stimulation. It feels quite different to a normal vibrator and it's something i encourage you to try.
If features 3 suction intensities and 8 different vibration modes. It has all the necessary features: waterproof, magnetic usb chargeable, silent motor and it's multifunctional: It can act as a clit stimulator, dildo vibrator, nipplesuckers vibrator, or as a classical g spot vibrator for women.
I got it because i wanted to try something new. The 5 star rating on Amazon convinced me and all i have to say is that i agree on that. It's an impressive device and you should have one too!
G-Spot Rabbit Waterproof Rechargeable Dildo Vibrator
This is the classic rabbit dildo vibrator. It comes in a sexy pink color and it's one of the best sellers on Amazon. I like it because it's reasonably cheap and get's the job done.
Features are great. It's made of medical grade silicone and it's easy to clean. Features magnetic usb charging and it's of course 100% waterproof. 
It's very similar to the GSPY Rabbit Vibrator featured above to be honest. The main difference is the design. I guess you'll have to choose if you like veins or not. 🙂
Shibari Mini Halo
This lovely device is one of my favourites. It's reasonably small and surprisingly quiet. It has 20 different vibration patterns and 8 different speed, so it's easy to find the right setting. It's USB rechargeable but you can't use it at the same time.
The charging time is about 2 hours and it's dimensions are 1.6″ x 7.8″. Personally i bought two, so i can use it in case one is discharged. For me the best feature is the silence. It's barely audible even in the same room and definitely a lot more quieter than other models. Recommended!
Utimi Rabbit Vibrator Upgraded
This is another rabbit vibrator. It costs less than $20 so it's average priced. Features are quite good for the price. It comes with the usual dual motor design, so it can stimulate clit, vagina and g-spot simultaneously. 
It has 10 different speed vibration and it's quite smooth. Can be bent as you wish too. It's quite silent and this upgraded version needs just 2 AA batteries, which are more powerful. The previous version used AAA batteries, which are smaller and less powerful.
It's not 100% waterproof tough. The insert part is but the button part is just splash waterproof, so it's not a good idea to put that part into deep water.
Pheiho Rechargeable Wand
This Wireless Massager is great. It's USB rechargeable and so small it's truly portable. It's made of soft silicone and very smooth. I find it quite easy to clean. It's also water resistant so you can use it in the bath or in the shower.
It's a bit noisy, but not too much. In fact, most vibrators are noisy so it's no big deal. This one in particular is quite cheap, i've seen it at $20 more than once, and to be honest, it should cost twice. It's that good. It comes in two colors. Pink and black. I picked it black because it's quite elegant and it doesn't look like a mess after you cum 🙂
PALOQUETH Cordless Wand Massager
This one is quite cheap too. I got it at $19,99. It comes in 2 different colors, purple and black. Purple looks sexy. It has 20 speed vibrations and it's made of silicone. It's also waterproof, usb rechargeable and comes with all the basic stuff.
The motor is quite powerful and for it's price, is quite a good choice if you ask me. This brand sells a more advanced massager, which i'll talk about later. 
PALOQUETH Wand Massager Handheld: 10 speeds and 8 vibration patterns
I got it after reading so many positive reviews and i have to say it's great. Turns out it's advertised as a muscle massager, that you can use on your neck, shoulders, hands, legs, feet, waist, etc but as you know you can use it as a sex toy too.
It comes with all the basic features. It's USB rechargeable, waterproof and made of plastic. The handle is made of silicone. It's a big device and that may be a problem for some. If you're looking for a compact device i think you should look another different product, like the Lovense Lush.
CalExotics Original Butterfly Kiss Vibrator
This is one of the cheapest vibrators i've seen. I got it for less than $9 and at that price was a no brainer to me. It works with 2 AA batteries. The battery compartment is a bit hard to find, but once you do it's not a problem.
It's made of thermoplastic rubber. Considering the price i's an OK device. Don't expect miracles but it can get the job done no problem. As i said, at that price, it's a good choice if you are on a extremely tight budget.